REALTORS®: Access hundreds of FREE articles on home ownership, buying, and selling for your communications.
Learn more >
Access Your Benefits
Free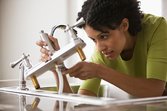 5 Tips to Prepare Your Home for Sale
Smart ways to make your listing irresistible to buyers.
Log In And Share
New Article Theme
New Feature
Help Clients Stay Safe with Home Security Tips
Welcome to the REALTOR® Content Resource, your destination for free, original home ownership content you can use in your consumer communications. If you'd like to feature free home security articles in your blog or in your social media channels, you're in the right place. Here are the five ready-to-go articles.
Safe and Secure
5 Articles:
Log In And Share
What is the REALTOR Content Resource?
This is an exclusive REALTOR benefit that includes FREE access to hundreds of homeownership articles and the tools to easily share them with your clients
Five easy ways to share:
Facebook
Twitter
E-mail
Your site or blog